Posted:
June 20th, 2012 |
Author:
Max Romero
|
Filed under:
Uncategorized
|
Tags:
Cover to Cover
|
7 Comments »
I've been a fan of science fiction for … well, for as long as I can remember. I don't know if it was the battered copies of Analog and Asimov's Science Fiction lying stacked in cardboard boxes at my aunt's bookstore, or the Foundation set my mom got for me at an early age (there's Asimov again), or the "aliens attack" movies my dad would sit me down in front of the TV to watch most Sunday afternoons. Whatever it was, it stuck.
I do know, however, that it was my friend Jon who gets credit for introducing me to cyberpunk at a time when it was factory-fresh, crackling with cold fusion-powered energy and William Gibson was already king. (Little did I know I was already years behind.) And with the delivery system he chose, he might as well have hit me with a highly addictive brick: Jon handed me Gibson's Neuromancer and I never looked back.
In case you're unfamiliar with the book (and the subsequent novels Count Zero and Mona Lisa Overdrive, rounding out the Sprawl trilogy), Neuromancer is the story of Case, a burned-out cyberspace hacker with dead nerves and seemingly no future in Chiba City. The future is a slippery thing, though, and soon Case is hooked up with Molly (a cybernetically enhanced "razorgirl" with ninja skills and mirrorshades implants) and working for ex-military officer Armitage, who promises Case a cure in exchange for his help. That, as they say, is just the beginning.
Some of this might sound a little silly when you're just reading a description, but Gibson is such a deft and lyrical writer that the reader is drawn in deep with the first page — hell, I was hooked with the very first line. It's also worth noting a lot of the ideas that might seem old hat now were originally Gibson's ("cyberspace" is the most used example — the author coined it), and a frighteningly large number of the concepts he came up with are now common, real-life technology. His writing is spare, tough and though-provoking, always with a look to the future even when a book is set in the almost-now, and I can say without hesitation that he is my absolute favorite writer. And while it may seem dated today, the art and design of this particular cover really distills the feel of Neuromancer for me; fractured, high-tech, and still horribly, recognizably human.
If you haven't read the Sprawl series — or the near-future Bridge trilogy and the sublimely subtle noir of the Bigend trilogy — do yourself a favor and get to it.
See you in the Sprawl.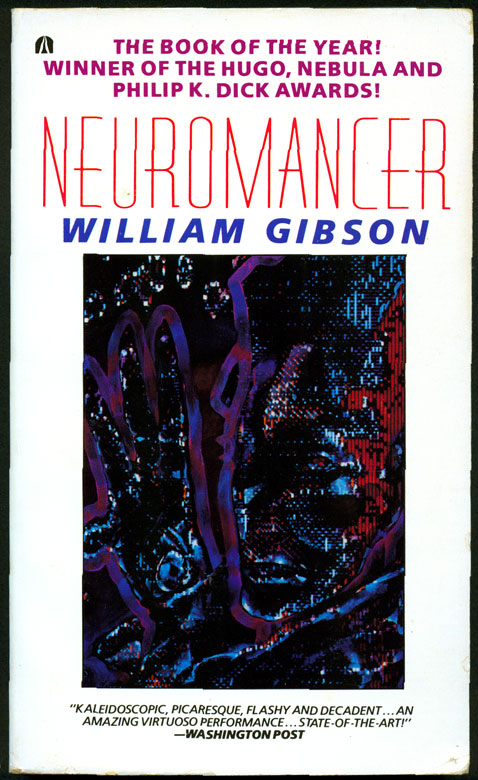 Neuromancer Cover art: Richard Berry 1988 edition (Ace Books)
---